Philbrook selects innovative new director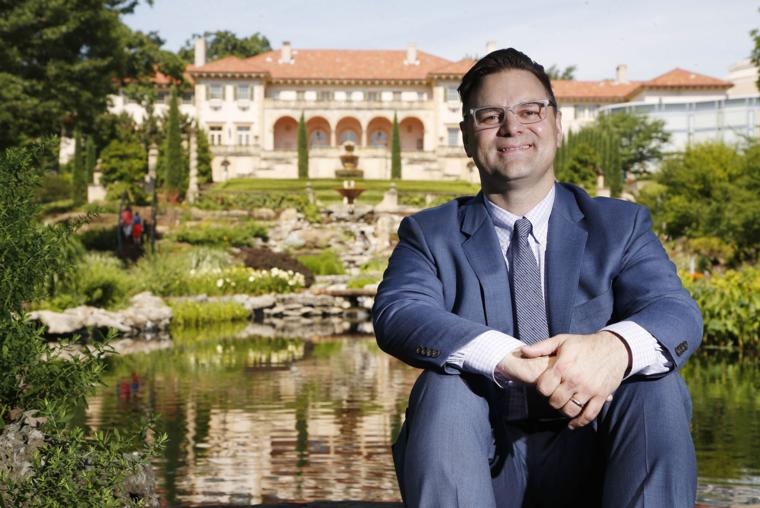 It was never just about cats.
Scott Stulen and Katie Hill, a colleague at the Walker Art Center, came up with an idea of taking examples of online content — videos that people typically watched alone, viewing them on smartphones and tablets — and curating an event in which these same images could be watched in a social setting.
"Cat videos just seemed to be an obvious choice," Stulen said, laughing. "There were a lot of them out there, for one thing. But it wasn't really about the content but sharing that experience, which is something we seem to be getting away from."
What was conceived as something of a novelty quickly became a phenomenon, as the first Internet Cat Video Festival drew national press attention and more than 10,000 people to the Walker Art Center in Minneapolis, Minnesota.
Since then, the Internet Cat Video Festival has been shown in 135 cities and nine countries, making it "the biggest event in Walker Art Center history," Stulen said. "Whether they like it or not."
But what Stulen discovered by tracking the people who came to that first festival in 2012 "was that the people who had come to the museum for the first time for that event were more likely to buy memberships," he said. "They had such a good experience that they wanted to see what else was going on here."
Finding new and innovative ways to attract and sustain museum audiences has been a major focus of Stulen's career as a museum professional.
It is also one of the qualities that prompted the Philbrook Museum of Art's board of trustees to name Stulen as the museum's new executive director.
Stulen will officially take over the position Aug. 22. He succeeds Rand Suffolk, who left the museum in 2015.
In a statement, Bill Thomas, chairman of the Philbrook Board of Trustees, said Stulen "exemplifies everything we we're looking for in our next director.
"Not only is he regarded as one of the nation's rising stars in art museum management," Thomas said, "but he shares the Philbrook philosophy of an art museum's role in society, which is to be open, community-centric and inspirational."
Stulen and his family — his wife, Rachel, and sons Erlend, 5, and Oliver, 1 — were in Tulsa on Wednesday to meet with the museum's board and staff.
"I had been watching what had been going on here in Tulsa," Stulen said. "And I really liked that Philbrook was working to make what it does relevant to the people who were coming to the museum. To me, this was an opportunity that was too good to pass up. What Philbrook has here — the relationship between the museum and the community, and the direction that the board has set out — is pretty rare."
The fact that the Philbrook grounds are patrolled by a trio of cats, he said, did not really figure into his decision.
Stulen comes to Philbrook from the Indianapolis Museum of Art, where he was the Curator of Audience Experiences and Performance, a position that was created for him.
"I had come to Indianapolis to do a TEDx talk about the work we were doing at the Walker," Stulen said. "And I didn't know at the time but that kind of put me on Indianapolis' radar. They had been working to create this kind of position, and they sort of stole me away from the Walker Art Center."
The concept behind the position was to bring a curatorial focus to the museum's public programs and events, from one-time events to daily programs.
Doing so, Stulen said, showed that these programs and events were of equal importance in driving the museum's mission. "It gave them a bit more clout," he said.
During his tenure at the IMA, Stulen and his team launched more than 125 new programs, which led to a 320 percent increase in program attendance. These included such events as Family Days, Artist-Designed Miniature Golf, College Nights, ARTxFIT, Adult Summer Camp, Mashup Lectures, B-Movie Bingo, as well as commissioning new performing arts works.
Stulen added that focusing equally on audience development and the first-time museum visitor, as well as providing the sort of experiences long-time visitors have come to expect, is key to a museum's success.
"Museums across the country are beginning to wake up to the idea that their role is more than being a physical building that displays notable works of art," Stulen said. "A lot of my work has been about how to reach those people who have never come to a museum, or maybe come once a year. Once you get someone to your museum for the first time, and they see all that is happening, you've cracked that idea that museums are not for them. They want to come back.
"As for the core audiences," he said, "what I've found is that they want to see the institution they love remain a vibrant place. They want to see new people coming to the museum and becoming engaged with what it has to offer."
Prior to his role at the IMA, Stulen served as director of the McKnight Artist Fellowship for Photographers, project director of mnartists.org at the Walker Art Center and associate curator at the Rochester Art Center (MN).
He has a bachelor's degree from the University of Wisconsin-Eau Claire and a MFA in Painting and Drawing from the University of Minnesota. He has shown his work all over the country, but in recent years, focused his creative output to producing innovative programs and exhibitions with local, regional and national artists. He is also a regularly performing musician and DJ.
James D. Watts Jr. 918-581-8478
james.watts@tulsaworld.com